Informe alternativo reclama políticas públicas para el desarrollo sustentable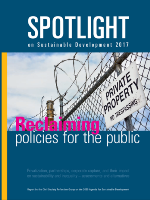 Una coalición global de organizaciones de la sociedad civil y de sindicatos presenta hoy en Nueva York el informe "Spotlight 2017" sobre desarrollo sustentable, coincidiendo con la apertura del Foro Político de Alto Nivel de las Naciones Unidas. El informe brinda una evaluación independiente exhaustiva y amplia sobre la implementación de la Agenda 2030 y sus Objetivos de Desarrollo Sostenible (ODS):
"En la Agenda 2030 los gobiernos se comprometieron a revitalizar una asociación mundial entre los Estados y declararon que las finanzas públicas tienen que desempeñar un papel esencial en el logro de los ODS. Pero en décadas recientes, la combinación de la ideología neoliberal, grupos de presión de las corporaciones, políticas fiscales regresivas, y la evasión de impuestos han dado lugar a un debilitamiento masivo del sector público y su capacidad de proporcionar bienes y servicios esenciales."
Por más información, visite www.2030spotlight.org
El Informe Spotlight es publicado por Arab NGO Network for Development (ANND), el Center for Economic and Social Rights (CESR), Development Alternatives with Women for a New Era (DAWN), Global Policy Forum (GPF), Public Services International (PSI), Social Watch, Society for International Development (SID), y Third World Network (TWN), apoyados por la Fundación Friedrich Ebert.
Spotlight on Sustainable Development 2017
Reclaiming policies for the public.
Privatization, partnerships, corporate capture and their impact
on sustainability and inequality – assessments and alternatives.
Informe del Reflection Group on the 2030 Agenda for Sustainable Development.
Beirut/Bonn/Ferney-Voltaire/Montevideo/New York/Penang/Rome/Suva, Julio 2017
www.2030spotlight.org  – #SpotlightSDGs
Contactos en Nueva York
>