ITeM's director challenges PPPs at the UN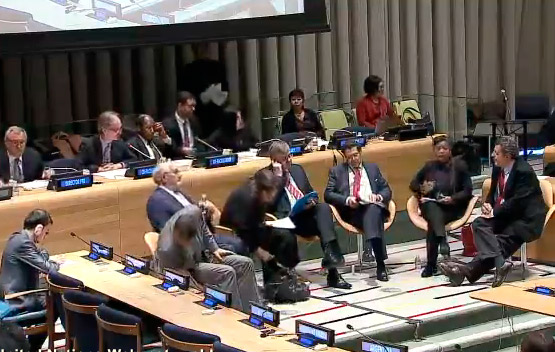 Corporations should be carefully vetted for their fiscal responsibility and human rights record before being allowed to use the UN name and logo or join any partnership with the international organizations, argued Roberto Bissio, from the Social Watch secretariat during a panel on global economic governance on December 11 in New York.
Former US congressman Barney Frank, co-author of the Frank-Dodd Act to regulate financial corporations, passed after the 2008 global crisis, was a panel member and agreed with many of the points raised by civil society organizations.
The panel also included Chilean Ambassador Eduardo Gálvez, who defended a central role for the UN in global economic governance, an IMF executive director, and representatives of the US Treasury and of the UN Office on Drugs and Crime.
Several government representatives intervened in the debate, asking for details about the critique and analysis of Private-Public-Partnerships (PPPs) by Social Watch.
See the whole debate here.

See Roberto Bissio's intervention here.

Download the slides showed by Bissio here.